For more extensive history and information see our archive page.
The first cycling club in Worcester was the Worcester Bicycle Club, founded in 1877, followed in the next few years by Worcester Tricycle Club (1881), the YMCA club (1884), and the Royal Worcester Porcelain Club (1887). Worcester Bicycle Club purchased a piece of ground in Hylton Road between Tybridge Street and the railway embankment, and laid a racing path, 350 yards long and three yards wide, on which competitions were regularly held in the late 1870s. The St John's Cycle Club was founded in 1888, and other clubs were formed in Worcester in the next decade, but only the St John's Club, which in a few years changed its name to Worcester St John's CC, has survived. It is today one of the oldest clubs in the country. Its survival was due to the enthusiasm of such men as T.W.Badgery, a founder member of the St John's and its first captain. (Badgery was still serving the club as its president when he died in 1953), and H.H.Brittlebank, an active member for 65 years from 1896 to 1961. The club's oldest trophy, the President's Cup, was donated in 1888 by the first president, Mr. George Williams, proprietor of Berrows Worcestershire Journal and a tricyclist. This is certainly one of the oldest cycling trophies in the country.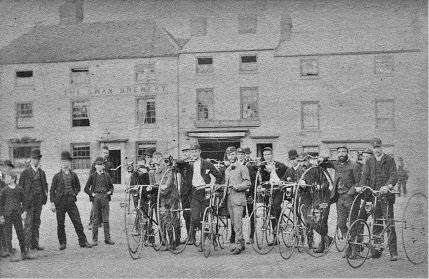 On the first club run over the Old Hills into South Worcestershire, a dozen tricycles and twice as many high wheelers were led by George Williamson. Within a year or so, all club members were riding safety bicycles with pneumatic tyres. Among distinguished Worcester cyclists in the Victorian period, though not members of the St John's Club, were W G George, the most famous athlete of his generation whose world mile running record set in 1886 was unbeaten until 1915, and Herbert Laurie, who set the world one hour record of 21 miles 125 yards on a safety cycle is 1888, and was, in 1890, the first Worcester rider to ride on Dunlop revolutionary pneumatic tyres.
The St. John's always included racing in its activities, unlike some of the others which were just touring clubs, and its most distinguished racing cyclist of the early years was Ernie Payne, who became a member in 1903. Among many track victories, including several national championships, he won an Olympic gold medal in the team pursuit in the London Olympics of 1908. He also played football for Worcester City, and had two matches with Manchester United as an amateur.
The period just before the first world war saw the end of many cycling clubs as the fashion for cycling as a social and sporting activity was dropped by the middle classes who had been the first supporters of the sport. The war itself laid waste to a generation of young men and many clubs did not survive. Worcester St John's CC suspended its activities until 1922, when H H Brittlebank and J Dinley called a meeting to restart the club and met an enthusiastic response. Arthur Isaac, president in 1914 had been killed in the war, and Earl Beauchamp accepted the invitation and remained president until his death in 1938, when his son assumed the office. Cycling in Worcester flourished in the inter war years, with a program of keen racing and club runs, Club champions included Bill Oakey, Joe Farmer and Charlie Greig, whose brother, W T Greig, became champion in 1941. Charles Harber,  joined in 1937 and was President until the 1980's. The club's "character of these years was Bert Perry, who ran a cycle shop in St John's. His eccentricity reached its peak in 1936 when he was arrested on his way to London with a wooden rifle to assassinate the Prince of Wales, spending a few days in Gloucester jail. The plume of feathers was Bert's trademark, and he had been upset by the abdication.
The club's activities continued throughout the Second World War, with social runs, time trials and grass track racing. At least one-track meet was held on Worcester County Cricket ground. In 1944, after being resisted for many years, women members were admitted to the St John's club. In the same year, the club's open "25″ was inaugurated attracting top riders such as B B Francis 1945 national champion, Cyril Cartwright, Stan Higginson, Tour de France rider Bob Maitland, competition record holder D J Keeler, Gordon Ian and Norman Powell.
In the immediate post war period the St John's attracted many fine racing cyclists as members, including Derek Farmer, Bobby Lloyd, Doug Dring, Max Sinclair, Mike Bailey, Dave Sparrey, Mike Earp, Bob Jones, and the Minovi brothers, Makan and Ramin. They competed both in time trials and in road races. Allan Norwood's Hetchins racing cycle cost him £41.01, road racing had taken off in England following the establishment of the British League of Racing Cyclists in the early 1950s. Ramin Minovi, rode as an international in road races and in the 1964 Tour of Britain. Eric Austin, later an international marathon runner, competed for the club in open events. The emergence of the BLRC threatened to split the sport, with younger riders challenging the old brigade who were opposed to "mass-start" racing, fearing that all competitive cycling on open roads would be banned. Time trialing was conducted under rules of secrecy, with riders dressed in black, and courses kept secret. Until 1962 result sheets were marked "secret and confidential".
The first club open road race, for the News and Times challenge cup, was held in 1957, and became one of the country's leading, and toughest, events, with Ankerdine Hill included on a four-lap course. It attracted the leading cyclists of the day, including John Geddes, winner in 1959 and Gil Taylor, winner in 1961. Taylor won the 1960 Tour of Britain. Norman Shelmerdine took over the organisation from Charles Harber in 1962. Ramin and Makan Minovi were first and third in the 1964 event. The race was a major event in the racing calendar well into the 21st century.
In the 1960s the club had several fine time trial riders, including Mike Morris, who was the first club member to ride under two hours in a fifty, while a stalwart member for many years, Bob Short, who sadly died in 2003 of cancer, began his long service to the club and cycling in general. In 1966 Bob rode in the Coventry CC twelve-hour event, leaving Worcester at 1 am to ride the fifty miles to the start. He had to be restrained from riding back to Worcester after the event. Bob was always ready to marshal in open events promoted by other clubs in the district and to help long distance record attempts passing through Worcester. Bob recalled with pleasure marshalling the 1970 club road race when it was used by the Italian team as preparation for the World Championship road race at Leicester. They took the first four places, with F De Plazze taking first place by a minute from F Bertagnoli. The club's contribution to road racing was recognised when both Charles Harber and Norman Shelmerdine were selected to officiate at Leicester.
In 1975 a low point in the club's fortunes was reached, with very few riders competing in club events. The Worcestershire Cycling Association was disbanded in the same year, suggesting a general decline of interest in cycling, but hard work by Alec Davies, who served right up until his death in 2018 as club time-trial secretary and timekeeper, and the enthusiasm of new members brought about a regeneration. In the 1980s Ian Fagan joined; later to become a successful professional rider and along with John Patston, Roger Beaven and Nick Yarworth, won the Divisional pursuit championship and were fourth in the National championship in 1980.
Nick Yarworth became a top veteran road racing and track competitor, later coaching and managing semi-pro and pro women RR teams. John Patston was a prolific winner of open time trials but moved away from Worcester in 1981. By 1982 the number of riders competing in club midweek time trials was often approaching fifty. The club championship was dominated throughout the decade by Don Rigby, with competition at the shorter distances from Nobby Clarke, Mick Mahon, Paul Watkins, Rick Allen, Martin Staines, Sam Barden, Nathan Preece and Ross Gilfillan. 1982 saw the first club rider to compete in a twenty-four-hour event when Roger Alma completed 385 miles in the national championship in Hampshire. In 1984, the Worcester St John's CC team of Roger Alma, Ross Gilfillan and Ron Ashman won the team event in the Mersey Roads Club "24″. Ross set a new club record of 436 miles with tenth place in the 1986 national championship.
In 1981 Cayn Theakston joined the club as a junior and immediately showed the talent that led to a short but brilliant profession cycling career, with international successes riding for the British team. Joining a Portuguese racing team, he showed great ability as a climber and stage race rider. A series of crashes frustrated his attempts to win several major races, but he was finally successful in winning the Tour of Portugal in 1988, the club's centenary year. The 1980s saw the emergence of fine time-trialling talent among the ladies, too, with Penny Mahon winning the 1985 National Junior Ladies Cycling Championship, and Noelle Wilson winning the 1984 Welsh Cycling Association fifty miles championship in 2.13.20. Noelle had a couple of excellent seasons as one of the country's top road racers. Capping a successful decade, in 1985 Gerry Hughes, the club's long-standing chairman, was awarded the British Cycling Federation Midlands Division gold medal for his services to the sport.
The last decade of the twentieth century saw the Worcester St John's CC flourishing with good support for club events and many successes in open time trials and road races. Among the outstanding riders, many members recall the abilities and fine character of Alistair Hooper, who despite losing the use of an arm in a motorcycling accident, won both club and open events, including hilly time trials. He tragically died following an accident in Kempsey in 1992. In club events the names of Ian Treadwell, Martin Staines, Marcus Walker, Nathan Preece, and Lee Suthard feature as regular winners.
Among the young riders coming though in the second half of the decade, Steve and Paul Dring, Adrian Bird, Lee Finch and Jonathan Dayus establish themselves as leading road racing cyclists as well as winning club time trials. Jonathan Dayus spent several years racing on the continent, riding as a professional, with an impressive list of successes in one day events and stage races. When he left the club Tim Wood's dominance of club TT's was taken over by Gavin Poupart. John Callaghan and Dave Walker emerged as leading club time triallists. Many of our better riders join sponsored racing clubs in search of the best competition and support; however, many of them continue their association with the club, turning up regularly to compete in club events, so that local riders can match themselves against some of the best in the country.
Our club events have featured outstanding talents such as those of Olympic rider and national champion Ceris Gilfillan, her brother James and international mountain bike specialist Liam Killeen, downhill world champion Tracey Moseley and brother Ed.
In the 21st century Steve Price, Rob Nicholls, Mark Corbett, and Simon Garrett have topped the leader boards in club and local open time trials. Dave Preece has ridden his Penny Farthing from Lands End to John O'Groats and won the national penny farthing championships. Ex-member Lee Suthard became world masters 3000 m Pursuit Track Champion in 2014
In 2015 we hosted the British Paralympic cycling Team at an evening 10, coached by Paul Dring, a club member in the past.
In 2019 ex-member Simon Wilson carried on his winning ways by winning the UCI masters track gold medal in the 35-39 scratch race, silver in the pursuit as well as setting TT course records riding for Ribble Pro-cycling